Did Belfor Hijack SERVPRO?
(updated 6/4/21 - details below)
Imagine the feeling when you're searching Google for your company/brand name in your local area and your BIGGEST competitor comes up first....
Would you feel:
Frustrated?
Annoyed?
Pissed?
Sound like a nightmare?
It happened to this local business..
 A SERVPRO franchise in Colorado, (our client) had that happen, with their BIGGEST competitor!
If you searched specifically for your company (your brand) in your targeted geographic area, you should appear first on the SERP's (search engine results page) right?
Not the case here:
Would you feel you've been hijacked or maybe even commandeered?
In my opinion, you pay all the franchise fees for a "brand" and, you'd think a powerhouse like SERVPRO with 1,900+ franchisees doing 7 Billion dollars annually would scream to the top of Google SERPS.
But that's not what happened.
My questions are…
Why does Google show a major competitor in this search?


Is the SERVPRO brand really all that powerful in Google's eyes?


Does Google see SERVPRO and Belfor as being so similar that their brands overlap and are interchangeable?


How did Belfor do it?



Would you consider this poor performance on the part of SERVPRO  corporate?
The impact on the franchise could be devastating
(potential loss of business and branding)
In my opinion, the SERVPRO brand could appear small, weak, and as a distant 2nd, especially when the search was for SERVPRO.
In no way does this imply that Belfor did anything wrong.
One might even applaud Belfor for potentially engineering the situation
(either intentionally or by accident)
How it all started
I received an email from a client (James and Chafika Landers) who own a SERVPRO franchise in Colorado. Their territory includes Aspen CO
We had been concentrating all our efforts on improving their GMB in order to attract more exposure and calls. 
The email from James said: "Update why I am still seeing the Belfor GMB page when I type/search ServPro Aspen."
---
SIGN UP FOR more articles like these!
Coming soon -   we evaluate the SEO for every SERVPRO franchise we could find...
---
Normally, every "brand and local town" will be listed in an organic SERP with link after link pointing to their website.
I did a Google search for united water restoration Naples fl
I would expect to see this:
Everything in that SERP screams united water restoration Naples fl.
But that's NOT what happened with my client
I was feeling a little bewildered as I punched into Google -- SERVPRO Aspen CO.
And this is a close-up of what I saw...
I was SHOCKED.
It seems Google offers up Belfor over SERVPRO of Garfield & Pitkin Counties because SERVPRO of Garfield & Pitkin Counties is not physically located in Aspen.
IMO they are displaying the company that Google sees as being in Aspen, even though it is NOT SERVPRO of Garfield & Pitkin Counties
I've been in this business, for more than two decades, and I've never seen a result like this before… ever.
My first impression was:
It seems Google sees Belfor as a "synonym" for SERVRO.
 
They do offer similar services but they are completely different brands…
Yet in this search result, Belfor and SERVPRO seem to be seen by Google as the SAME.
Google gives significant weight to a business's address/location in the Google Maps results.
On a 1st pass, location is the easiest way to decide who belongs in the 3 pac (Google maps). 
Makes sense right?
But that's bush league.
Google is better than that right?
Especially when the obvious "search intent" was for SERVPRO Aspen CO?

It couldn't be that...
The company located closest to the "searched" location gets the most attention, even if it isn't the company being searched for?
We feel that every client is
"under our care"...
And we fight for them tooth and nail
So it was time to buckle up and get to work.
My first stop was to search the Belfor link and evaluate their landing page, site, traffic, images, incoming links, titles, layouts, and graphics... If you're familiar with SEO (especially local SEO) you know the drill.
But before going down that rabbit hole,
I needed to "Think like Google" and look at the most obvious first.
During my teardown of Belfor's Aspen GMB, the location in the picture was the first thing that grabbed my attention.

It was possible that it was legitimate, but I was immediately on high alert.
I went to Belfor's location page and looked for their Aspen location.
https://www.belfor.com/en/us/belfor-usa-offices

Results? 
ZILCH, no listed location anywhere in or near Aspen CO
I used their tool (beginning with aspen) to see when Belfor would show the closest place near Aspen, CO. There was no Belfor office within 500 miles.
I searched all of Colorado for available Belfor offices.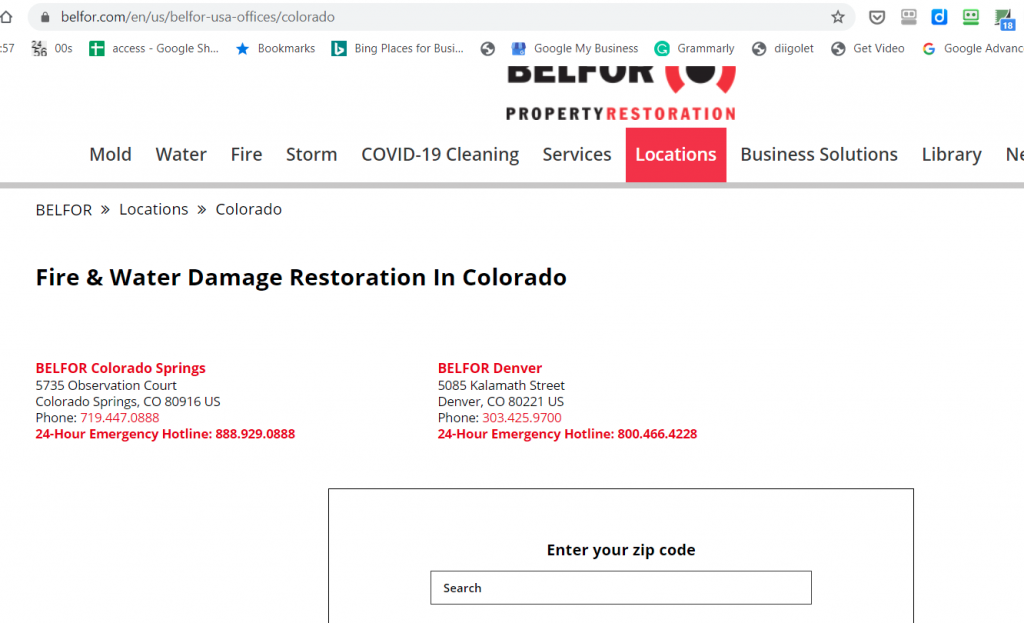 Nothing was listed in Aspen Colorado
I could hear James Landers saying - "Belfor does not have an office in Aspen or anywhere close.  We know this for a fact."
Additionally, I searched super pages and a few local directories without any luck.
So why did Belfor appear in Aspen?
An error?
A misinterpretation?
A malfunction?
In most cases when you verify your GMB, Google will send a postcard to prove that you're a legit business in that physical location.
Although Google does offer alternative phone, text and video verification too.
While I don't claim it happened here, I do know "up until a short time ago" you could "game Google" and obtain a verified GMB without submitting a postcard.

Imagine that 🙂
Google is on the HUNT for these kinds of things, and is finally taking action against what they call "fake GBM accounts."
https://creativetrnd.com/marketing/google-fights-back-against-fake-business-profiles-and-local-reviews/
My point here is not to suggest that Belfor was gaming the GMB system...
I'm simply pointing out that the GMB system had several crucial flaws that could (and have been) exploited.
Upon closer examination, it appears...

Google allows Belfor to "phone verify" without the need for a postcard.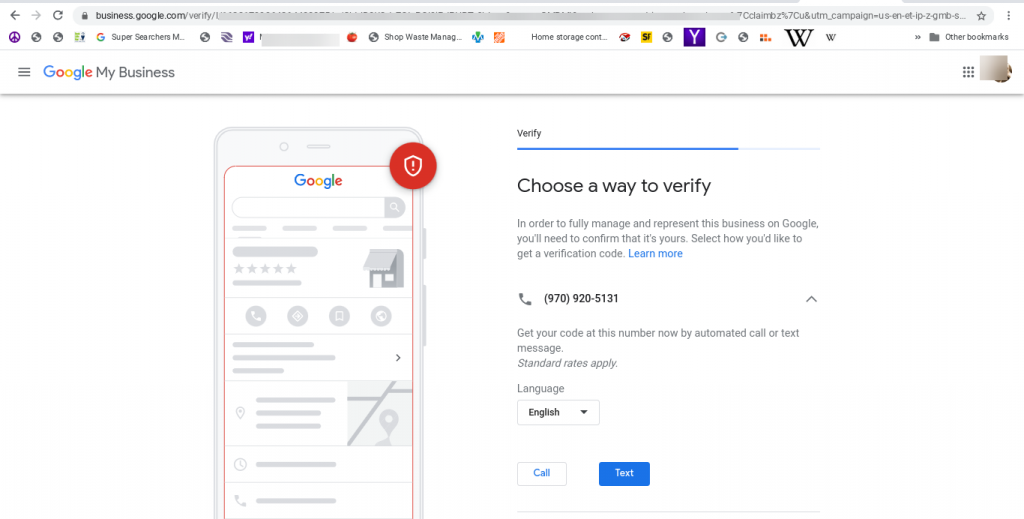 So you could essentially put in ANY  Aspen CO location and you could verify it by a phone call or text from Google
- IMO not a very good verification method -
Especially when James and Chafica had so much push back verifying a legitimate location of theirs.
Google My Business forced the Landers to do a video verification
They even requested a re-verification a 2nd time based on a "change" in the account. This time by postcard.

FACT a change was made in their GMB that did NOT affect their listed (and video verified) location or any form of change of address. 

My response:
Shortly after that email, they were verified without any further hassle.
Next up
I compiled all my research and reached out to Google about the situation.
If the Belfor location is unable to verify the location (they receive a notice from Google that there is a potential issue with their GMB), Google will promptly remove the listing.
Using three different methods, I informed Google...
1) suggest an edit 
see an image saying something like "To the best of my knowledge you are not in Aspen, especially since your corporate site does not list you in Aspen" or something like that.
2) A Redressal form
Go to https://support.google.com/business/contact/business_redressal_form 
There is more room to support your claim in #2, and you can include a screenshot of the location page of Belfors website
My only suggestion (and only my opinion) is to use similar or the same words (if it's truthful) as Google uses on its form. Words like:  misleading information or fraudulent activity on Google Maps
3) Direct maps feedback: 
https://support.google.com/maps/answer/3094045?co=GENIE.Platform=Desktop
As a result:
1) (from a google email to me)
"Thank you for contacting the Google My Business Support team about misleading information on Google Maps."
I emailed James - "Let see how long it takes before we see some action and it's updated."
Within 24 hours, I emailed James:

 Are you seeing what I'm seeing?
​Your knowledge panel comes up. 
Belfor is GONE and you don't see the maps.
It's ALL YOU!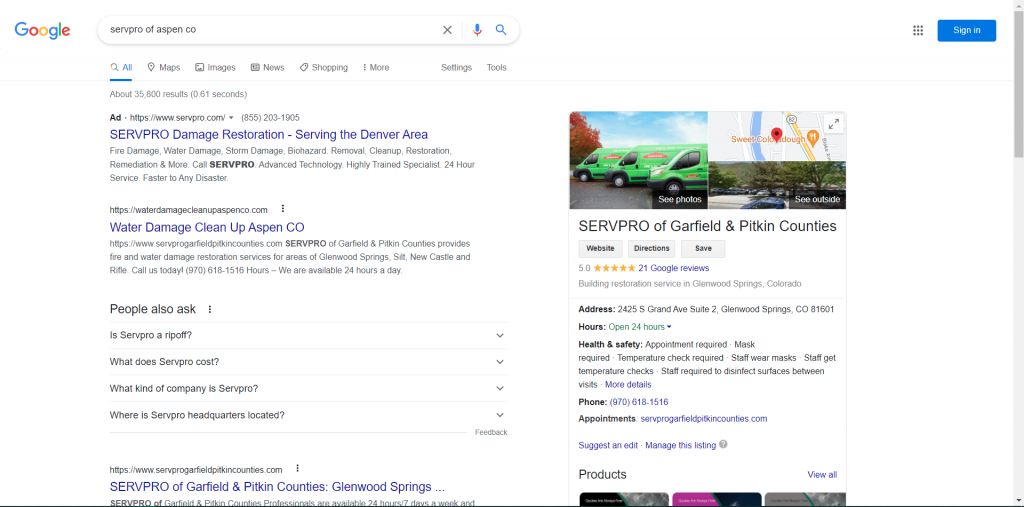 And when you look at Belfors current Google My Business:
There has been some "vacillating" of the SERP
When you refresh the search using SERVPRO Aspen CO... some results show the SERVPRO of Garfield & Pitkin knowledge panel and other times the map 3 pac with Belfor listed as #1
Summary - I'm left with questions...
Perhaps our friends at Google can help?


https://support.google.com/business/thread/new?hl=en-GB



With the lack of a physical presence in Aspen CO why is Belfor allowed to keep their GMB account active?

Why does it appear Belfor gets special treatment over SERVPRO?
How can someone legitimately get results from the GMB group when it appears the steps Google suggests don't work?
We are still hunting this matter down to a sensible resolution...
This morning (6/4/21) I reached out to a contact I have on the GMB team and shared this post...
Within MINUTES the SERP now reflects the knowledge panel for SERVPRO of Garfield & Pitkin
-----------------------
If you would like to become a client of ours or have questions on how we can help you, please contact us here.