An unjustified review's frustrating and it's easy to get angry.
Here's proof you can get Google and BBB reviews removed...
How We Removed A Client's
1-star Google Review
(Left by a Disgruntled Employee)
You'll learn how to "ask" Google and the Better Business Bureau... to remove a review
I'm not here to talk to you about why it happened.
I'm here to help you fix it!
So buckle up. We have a lot to cover.
What do you do when you get that nasty 1-star review?
That depends on whether it is a legitimate review from a customer of yours or if it's from a disgruntled employee or competitor.
Google is more likely to remove a review with a response that explains why it does not pertain to the business or how it is a violation of Google Guidelines.
We took a hard look at what your options are
Remember, this is NOT about you.  It's really about Google.
For  this  case,  we  selected  the  Deceptive  Content  category  and selected  misrepresentation
Misleading information can impact the quality of information on Google Maps
"For this reason, we don't allow individuals to use Google Maps to mislead or deceive others or make misrepresentations."
But what does your removal request look like?
As a disgruntled employee review, we focused on showing Google how the review was misrepresented and how it would negatively affect Google's results.
This includes:
False or misleading accounts of the description or quality of a good or service.

Distorting or omitting facts to scam other users.
Distorting or omitting information that could have an undue impact on user decision-making.
Content that is based on a conflict of interest.
Posting content that tricks users into revealing confidential information, downloading unwanted or malicious software, or subjects them to phishing or baiting.
As you can see, Google is worried about how a misrepresentation will affect the quality of information on Google Maps. 
Here is precisely how we presented it:
Review Removal Request  (link to Company's Google maps page)   (date)
Review challenges that need to be addressed, point by point
1st issue - offensive content: There are unsubstantiated allegations of unethical behavior or criminal wrongdoing in the review.
2nd issue - misinformation: The false, inaccurate, or deceptive information can cause significant harm to the businesses and both individuals mentioned in the review
3rd issue - misrepresentation:The misleading information can impact the quality of information on Google Maps and can be misleading or deceiving
Issues are based on the following:
False or misleading accounts of the description or quality of a good or service.

Distorting or omitting facts.
Distorting or omitting information that could have an undue impact on user decision-making.
The content is based on a conflict of interest…
Since the reviewer is a disgruntled employee (fired from her job)
NOTE: Everything we claim fits and reflects Google's listed guidelines.
I would flag the review and would NOT respond until after the review request was denied.
IMO this allows Google to focus on the review only.
If the removal request was DENIED, I would comment on the review.
Then, go back in and file an appeal with Google!
This does two things:
it allows people to read your response and better understand whether they should value that review as credible.

it offers more information for Google to consider during its appeal process.
In this case, as a disgruntled employee review, I would comment that the person was an employee from (this date) and fired on (this date).
I would also mention some of the reasons for the termination.
NOTE: This is not legal advice, and I'm not a lawyer, nor do I play one on TV.
So if you have concerns about how much info you should share, I suggest consulting your legal counsel.
The Google party line says you must wait three business days for Google to reply
Don't believe it!
Google is overwhelmed right now, and IMO, it reflects in the speed of their service. 
We also understand with all the recent Google layoffs, everyone is stretched thin, and a 3 business day expectation was the exception, not the rule.
Things are rough over at Google. I never thought I'd see the day Google would be doing this…
We even experienced a few technical issues.
In addition to the tech issues...
Based on the length and claims of this review, it was kicked up to a very busy higher-level team for evaluation.
I'm sure this added to the abnormally long response time.
If you need it, you can use our reply above.
Before the matter was resolved in our client's favor, we reached out daily to our direct Google contact. (16 days)
Review Recency
Review recency is one of many factors that Google considers when deciding who to place in the 3 pack.
But it's only one of 4 major criteria
1) Your GMB/GBP listing must be optimized correctly.
2) You need multiple citations, with some from your industry and locally.
3) Now comes review velocity
4) We have a proprietary process that magnifies all these signals
Plus we add more focus on lesser-known but important criteria to rank your GMB/GBP
Before you focus all my attention on review recency, make sure everything else is in order
To get a clearer understanding of HOW we do this, you'll need to become a client.
You should always PROMPTLY respond to a review…
Remember you are serving 3 masters
1st is the reviewer

2nd is Google

3rd is the potential prospects reading your responses
The big mistake I see is responding to a review like a robot or a "big corporate" entity.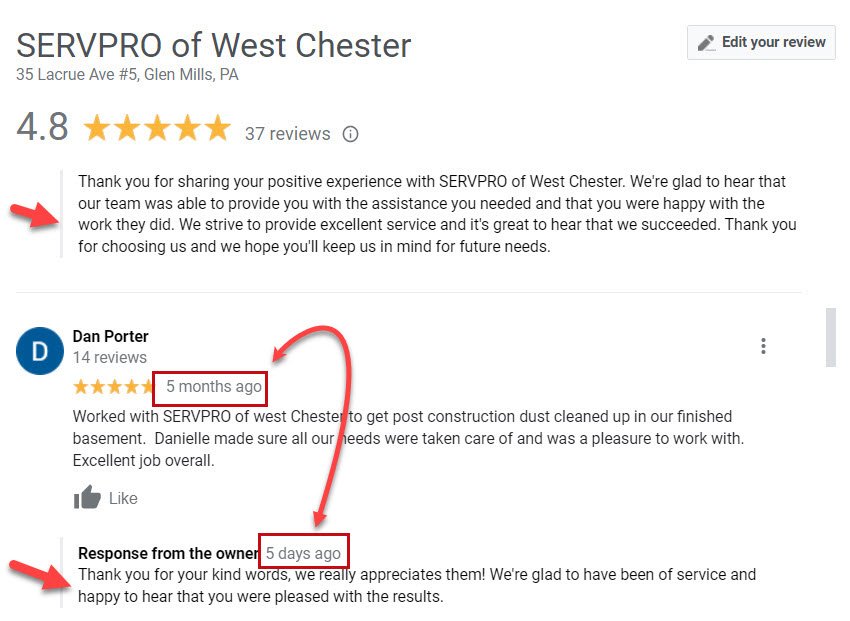 When you read those responses, IMO, they sound canned and robotic. 
You'll notice that most of those responses appear to be saying the same "corporate speak."
While you're at it, make sure your spelling and grammar are correct too!
Put yourself in the shoes of your potential prospects or the person receiving your response.
How do those responses make you feel?
Do you feel warm and fuzzy when you read them, or do you feel blah? 
From the reviewer's side
When you respond to a review, the reviewer gets notified you responded.
Imagine how the reviewer feels when they get a response 5 months after they left you a review?

Or how about getting a response from the company after 2 years?
IMO, that's the kind of thing that gets "sarcastically" discussed around the water cooler
Kudos to SERVPRO of Westchester for finally responding. 
It's a shame they went through the effort to do this because it takes time and money to respond.
As a result, I believe the way the responses were presented could threaten their business's exposure and growth.
It's not their fault.
Things are changing so fast.
In the old days, just responding was "good enough."
These days not staying up to date or FULLY understanding what Google is looking for can hurt your business.
In most cases, business owners are busy working and counting on the employees or third-party vendors to be experts.  
IMO, when both the owner and the people they hire don't know what they don't know, it makes for a dangerous combination.
Shameless Plug: That's why people like you hire people like us. 
We're in the trenches (every day) with other water damage restoration companies and have experience & insights in many other industries.
If we see something working in another industry, we test and incorporate that success into what we can do for you!
Unless you've actually done something in the wild, it's easy to miss the nuances that get you the actual results.
We can't forget Google
Remember you are actively being studied by Google, so they can figure out how to best present you to people searching Google.
That means the more information you can share about what you do, the better.
The way you respond to these GMB/GBP reviews allows you to tell Google directly.
 Review Response
Full of "keywords and phrases" that tells Google what you do.

Add your company name.
Be very empathetic.
(Good for reviewers and prospects)
Your actions on the GMB/GBP platform will hold more weight. 
Afterward, go through your reviews and "like" the ones with four and five stars.
In our experience, Google will push those reviews to the top (and push the lower-ranking reviews to the bottom) and keep the higher-ranking reviews on top longer.
---
---
The Yext Competition

Search Tracker Tool

- suggested in the newsletter
Good, but certainly not as robust as what we offer you.
Brand Monitoring
We can track almost anything.

 CTR, if you're "above the fold" or even how many pixels from the top
This gives an unprecedented look into you and your market.
Competitive Analysis
We don't limit you to only two.

We can monitor competitors by brand, individual domains or even specific URL's
Deep Local
See the results from any search engine in any location in the world

Detail so precise you can see the search results from a mobile Google search in the office of your most important Center of Influence or the area about to be hit by a devastating storm.
That means you can identify untapped marketing opportunities and beat your competitors from every angle.
Plus, we compare GMB/GBP YOY results
In comparison to Google's GMB/GBP or Yext, ours is a far more robust reporting tool!
One thing we do better than anyone else...
We understand your customer and their experience because we are your customer, and we deal with customers like yours every day.
Would you like more information like this or some powerful GMB/GBP tips? Sign up here to learn how we can help you dominate your local market.
Watch for our new review tool


It will help your prospects
write their own reviews
Sign up for the early bird launch here
---
How do you handle BAD reviews
from real customers?
When a business receives a bad Google review, responding promptly, professionally, and empathetically is essential.
Here are some steps that businesses can take:
Respond promptly: Responding to the review as soon as possible is vital, ideally within 24-48 hours. This shows the reviewer and potential customers that the business takes feedback seriously and values its customers' experiences.
Apologize and empathize: Begin the response by acknowledging the customer's experience and expressing empathy for the situation. Apologize for any inconvenience or negative experience the customer had with the business.
Offer a solution: If possible, offer a solution to the customer's issue. This could involve offering a refund or replacement or additional assistance to address the issue.
Keep it professional: Maintaining a professional and respectful tone in the response is important, even if the review is unfair or inaccurate. Avoid getting defensive or emotional in your response.
Take the conversation offline: It's often a good idea to invite the reviewer to take it offline and provide contact information for customer support. This can help to resolve the issue privately and prevent further negative feedback from the customer.
Use the feedback to improve: Finally, it's important to take the feedback to heart and use it to improve the business's products, services, or processes. This can help prevent similar issues and improve the overall customer experience.
By responding to negative reviews professionally and empathetically, businesses can demonstrate their commitment to customer satisfaction and turn negative feedback into positive outcomes.
Any questions or comment?
Please fire away!
John